BNSF Railway
BNSF Railway is one of the U.S. Class I railroads serving especially the western half of the country, with a rail network of 32,500 route miles in 28 states and two Canadian provinces and more than 43,000 employees. In 2013, the railroad handled 5 million intermodal shipments, as well as large amounts of agricultural products, coal, and industrial goods. The company reported 2013 revenue of $22 billion, up 6 percent year-over-year.
The Fort Worth, Texas-based railroad was created in 1995 from the merger of Burlington Northern Inc. (parent of Burlington Northern Railroad) and Santa Fe Pacific Corp. (parent of the Atchison, Topeka & Santa Fe  Railway). BNSF became a subsidiary of Berkshire Hathaway, Inc., in 2010.
Key Coverage
New Bajio-Chicago service to tap cross-border growth
Slower BNSF intermodal transits give UP opening
STB raises concerns with 'deterioration' of BNSF service
BNSF's Rose relinquishes CEO post, will stay with railroad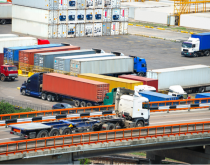 The front-loading of Chinese imports to avoid tariffs is disrupting US less-than-truckload distribution networks, forcing reallocation of resources.