Port of Long Beach
The Port of Long Beach is the second-busiest container port in the United States, offering six container terminals and intermodal rail service from BNSF Railway and Union Pacific Railroad. Its highly automated Long Beach Container Terminal at Middle Harbor -- one of the most technologically advanced port facilities in the United States – enables truckers to benefit from a terminal configuration that speeds up harbor turn-times by separating vessel from street traffic.
In the Los Angeles-Long Beach region, private-sector developers of information portals such as GE Transportation and Advent Intermodal Solutions' eModal, often in cooperation with port authorities, have established gateways in major gateways.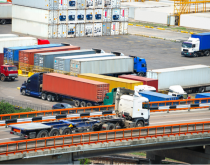 The front-loading of Chinese imports to avoid tariffs is disrupting US less-than-truckload distribution networks, forcing reallocation of resources.