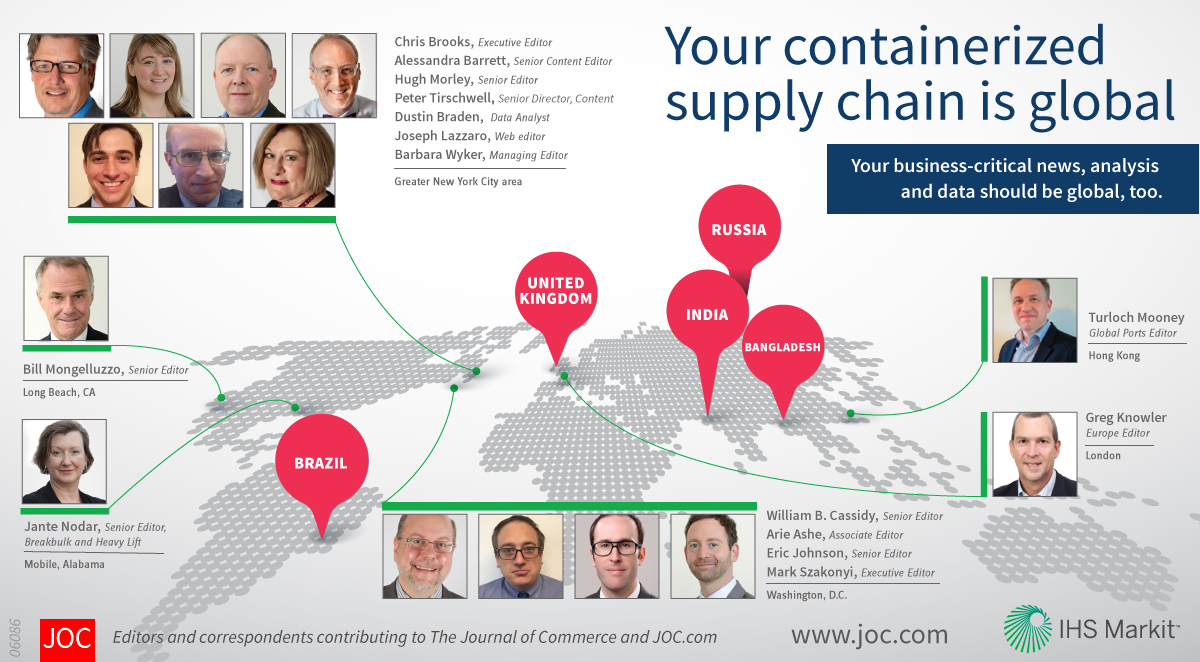 Peter Tirschwell is Executive Director for Editorial Content within the Maritime & Trade business of IHS Markit, which provides a range of data and analytics and intelligence capabilities. In his role he is responsible for all content appearing in JOC publications, websites, events and other products. A career shipping and transportation journalist, Peter was a reporter, West Coast Bureau Chief, Editor in Chief and Publisher of The Journal of Commerce in his 25+ year career with the company beginning in 1992. He is the founder and chairman of the annual TPM conference in Long Beach, Calif., the world's largest container shipping conference. He writes a regular column in The Journal of Commerce print magazine and website covering a range of international logistics topics. He speaks regularly at industry events and has been quoted in mainstream business media including the BBC, The Wall Street Journal, Financial Times and The New York Times. He lives in Brooklyn with his family.

 
 

Chris Brooks leads JOC Events programs and works closely with the online team focusing on JOC.com and The Journal of Commerce. A 30-year company veteran, his career has spanned every aspect of the editorial operation, from copy and front-line editing to design, reporting, and overseeing numerous websites. From 2008 through 2017, he managed the day-to-day editorial operation, including its team of award-winning journalists. He now leads the programming teams for nine annual JOC events, including TPM, TPM Asia, Container Trade Europe, and the JOC Inland Distribution, Gulf Shipping, and Port Performance North America conferences. Brooks also oversees the JOC's editorially driven series of webinars. He holds a bachelor's degree in journalism from Lock Haven University in Lock Haven, Pennsylvania.

 
 

Mark Szakonyi leads JOC.com and The Journal of Commerce. The JOC editorial team of more a dozen editors and global correspondents provides business-critical and data-heavy business intelligence and analysis. Szakonyi oversees the magazine's 100-plus special reports a year, including the Annual Review and Outlook and Top 100 Importers and Exporters issues. In addition to supporting all JOC events, including TPM, TPM Asia, and the Inland Distribution Conference, he is chairman of the annual Canada Trade Conference. His analysis and work have been quoted in mainstream news media including the BBC, The Economist, NPR, and USA Today. Szakonyi, a Chicago native now calling Washington D.C. home, is an avid reader, traveler and vinyl record collector.

 
 

Bill Cassidy is Senior Editor, Trucking at the JOC, and his news and analysis of this area are included in the JOC.com, The Journal of Commerce and JOC Events. He joined the publication in 2009, after 13 years at Traffic World magazine where he served as Executive Editor, Managing Editor and Associate Editor. Based in Washington, D.C., Cassidy has been reporting on trucking since 1984, when he joined Fleet Owner magazine in New York. He has also covered logistics management and supply-chain technology, the rail and maritime industries, Congress and federal agencies. Cassidy regularly speaks to industry groups on his area of expertise.

 
 

Bill Mongelluzzo is Senior Editor, Trans-Pacific at the JOC, based in Long Beach, California. He is responsible for coverage of the trans-Pacific trades, West Coast labor issues, harbor trucking, West Coast ports, and marine terminal productivity for JOC.com, The Journal of Commerce magazine, and JOC Events, and chairs the annual Port Performance North America Conference. Mongelluzzo joined The Journal of Commerce in 1980 as New Orleans correspondent. He moved to Long Beach in 1985 and opened the Los Angeles-Long Beach bureau. He served as maritime editor of The Journal of Commerce in New York in 1992-93 and returned to Southern California in August 1993. Mongelluzzo began his journalism career in 1972 as a reporter with the Times-Picayune in New Orleans. He is a native of Chicago and holds a bachelor's in journalism from the University of Missouri and a master's in history from the University of New Orleans. 

 
 

Greg Knowler is Senior Europe Editor at the JOC, based in the London. His coverage spans transportation and logistics issues in Europe and the Asia-Pacific for JOC.com and The Journal of Commerce magazine, chairs the annual Container Trade Europe Conference in Hamburg, and co-chairs TPM Asia in Shenzhen, China, both organized by JOC Events. After 11 years as a reporter and editor for several daily newspapers in Durban, South Africa, he moved to Hong Kong in 2000 to join the South China Morning Post sports department before becoming editor of Cargonews Asia, a regional logistics magazine. He joined the JOC in 2014. A South African native, he moderates at industry conferences and shipper round tables while bringing context to the news coverage and analysis crucial for shippers in Europe and the Asia-Pacific.

 

 

Hugh R. Morley, Senior Editor for the JOC, covers the port of New York and New Jersey, as well as various US Northeast and Mexican ports, and co-chairs the JOC's Mexico Trade Forum, launched in 2018. He has written on business for 15 years, covering a range of topics, from government oversight of business to corporate legal battles and the fierce interstate competition for jobs and investment, and has been a journalist for 25 years. He holds a bachelor's in management and operational research from the University of Leeds and a master's in global business from Rutgers University.

 
 

Turloch Mooney, Global Ports Editor

Turloch Mooney is a well-known Asia-based supply chain journalist. His area of specialization is global ports, covering issues such as port congestion, competition, mega-ship impact, productivity, hinterland access, and relevant supply chain issues, and he co-chairs the annual TPM Asia Conference in Shenzhen, China. Prior to joining the JOC, he was co-founder and managing director for Supply Chain Asia, based in Shanghai, China. He previously held posts at the International Air Transport Association as Chief Editor & Secretary for the Global Compliance User Group. He holds a bachelor's in English, History, and Anthropology from the National University of Ireland, and a master's in International Studies from the University of Limerick, with specialization in International Law and International Trade. 

 
 

Eric Johnson is the JOC's Senior Editor, Technology, where he leads coverage and analysis of technology's impact on global logistics and trade. Johnson regularly reports on how shippers, carriers across all modes, and logistics companies use software, as well as new concepts impacting core freight transportation processes like procurement, execution, visibility, and payment. Johnson is a regular presenter and moderator at industry events and webinars. Prior to joining the JOC in May 2018, Johnson spent 13 years with American Shipper in a variety of roles, most recently covering logistics technology and leading the production of a series of benchmark studies on the logistics industry. Johnson has a bachelor's in journalism from the University of Wisconsin and a master's in international business from the University of Leeds, UK. He has lived and worked in Southern California, the UK, and India, and now resides in the Washington, D.C., area.

 
 

Janet Nodar is Senior Editor for Project and Heavy-Lift at the JOC, covering breakbulk, project and heavy-lift transport. She is based on the U.S. Gulf coast. She was a reporter and editor for the Journal of Commerce's Gulf Shipper and Breakbulk publications from 2006-2013. From 2013-2018 she was Content Director with Breakbulk Events & Media. She holds degrees in finance and English. 

 
 
 
 
 

 

Ari Ashe has more than a decade of journalism experience working in the busy newsrooms of Washington D.C. He earned two bachelor's degrees at George Washington University and a master's in broadcast journalism from Syracuse University. In 2006, he began his career with WTOP-FM in Washington D.C., a 24/7 all-news radio outlet. Beginning as a producer, he was the commuter transportation beat reporter from 2012 through 2015. He won an Edward R. Murrow Award for investigative journalism during the three-year stretch. In 2016, Ashe moved over to covering commercial transportation for Transport Topics, a publication of the American Trucking Associations, covering the business of trucking, railroads, and ocean carriers, including quarterly earnings reports and economic news affecting the industry. He joined the JOC in 2018 and reports on the Southeast US ports, intermodal, and trucking.

 

 

 

Dustin Braden began his time with the JOC as an intern in 2014 before returning full time as Assistant Web Editor in 2015, managing and editing international correspondents and copy. After growing comfortable with that work, he began to dabble in data and is now the JOC's Data Analyst, compiling market intelligence and analysis drawing on a wide array of IHS Markit data to inform and enrich JOC reporting. He previously worked in the media on a freelance basis and his work has appeared in special editions of Newsweek and TV Guide magazines. His interests include trade, the media, politics, and international relations, and he holds a bachelor's in English literature and history from the University of Pittsburgh.